DATE: Monday, 5 July 2021
Dear customers, we've been notified of a recent phishing scam asking you to update your payment method either via email or phone. We will never phone and ask for your credit card details over the phone. The email has been spoofed to look like Freeparking has sent it. This email is not legitimate, please do not click the links or enter any personal information.
Here's a few clues as to what gives the scam away:
The sender is 'FreeParking', our name is 'Freeparking'
We only send billing related emails from accounts @freeparking.co.nz or billing@freeparking.co.nz
If you hover over the link in 'RENEW NOW', it shows a link that is not related to Freeparking
It asks for AUD, we only accept NZD
The last line of the email says 'Copyright 1999-2020 Operating Company', the year is not correct and it would say 'Freeparking Group Limited', not 'Operating Company'
If you've made a payment via this email - please contact your bank regarding fraud refunds.
This is what the spoofed email looks like: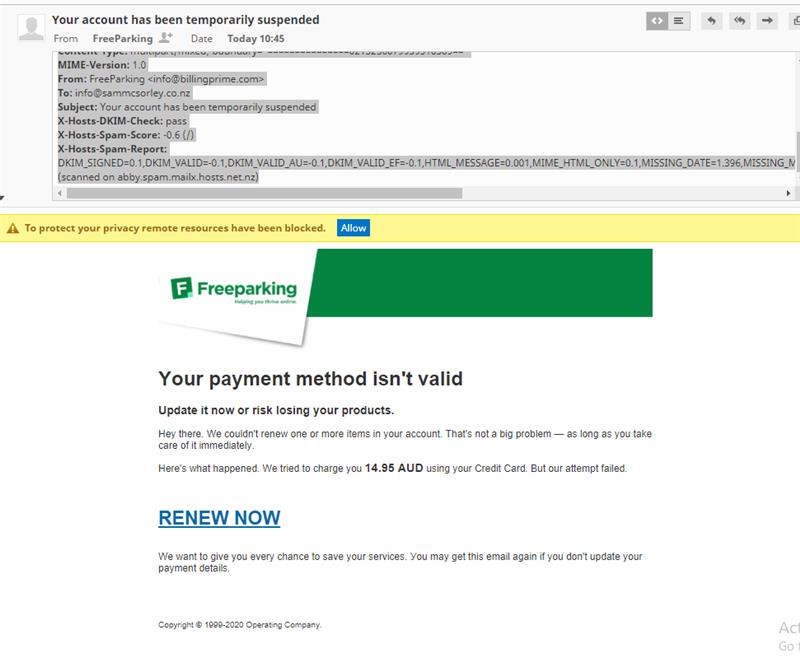 If you have any questions or concerns, please contact us via +64 9 925 5552 or by submitting a support ticket here: https://www.freeparking.co.nz/contact-us
---
Was this article helpful?
---
What's Next